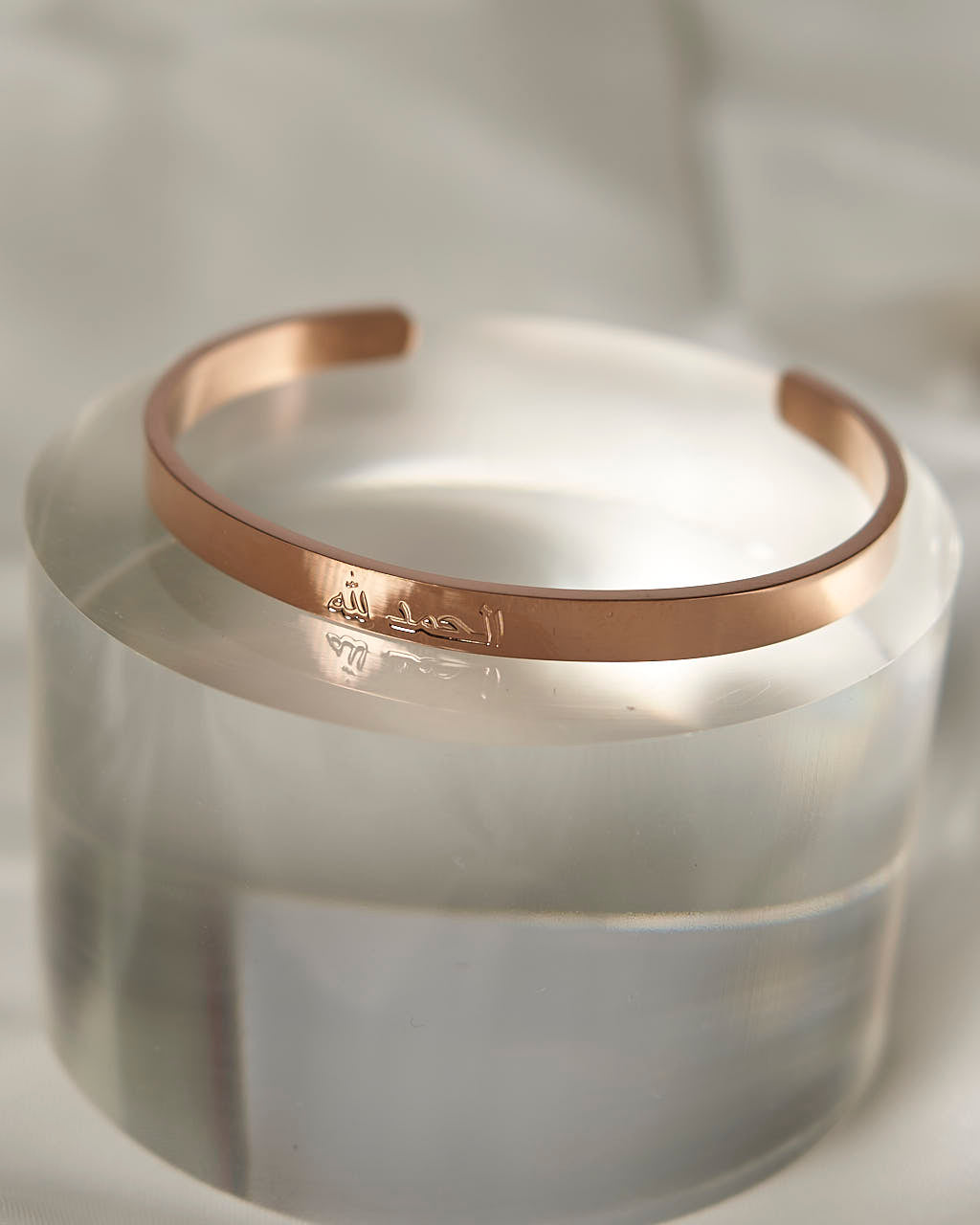 Arabic Alhamdulillah Cuff
Our Alhamdulillah Cuff is the perfect reminder you'll always need in life. No matter how tuff life may seem, we know deep down someone will have it worse and for that we are eternally grateful, Alhamdulillah.


In this materialistic world, it's hard not to fall prey to consistent food and consumer appeal that can make us forget our blessings. So keep this reminder close to you for "reminders benefit the believers." Only by being reminded of the One who has provided the blessings we enjoy; can we truly begin to realise the beauty of gratitude.

The Alhamdulillah Cuff is made from a high quality solid stainless steel. Avaliable in 18K Gold plated, Rose Gold and Silver.

It goes perfectly with our Alhamdulillah Necklace.

Cuffs are adjustable to ensure the perfect fit to any wrist.
Hypoallergenic: Sensitive Skin-Friendly.
Lifetime Warranty against all rust or tarnish.
You will be giving charity, as a portion of our profits will be donated to charity.
Free Shipping over $150
Free Express over $250
Standard: 2 - 8 Days
Express: 1 - 2 Days

30 Day Returns

No returns during sales events or festive seasons e.g Ramadan, Eid

No returns on any sale items / lifestyle items / custom & headwear items unless damaged.
All our pieces come with Lifetime Warranty against any rust, tarnish or colour fading.

We want our pieces to last a lifestime, so you can appreciate the beauty that each piece holds.

The moment our jewellery fails to make you smile, contact us and we'll send you a new one.
This product has no reviews yet.