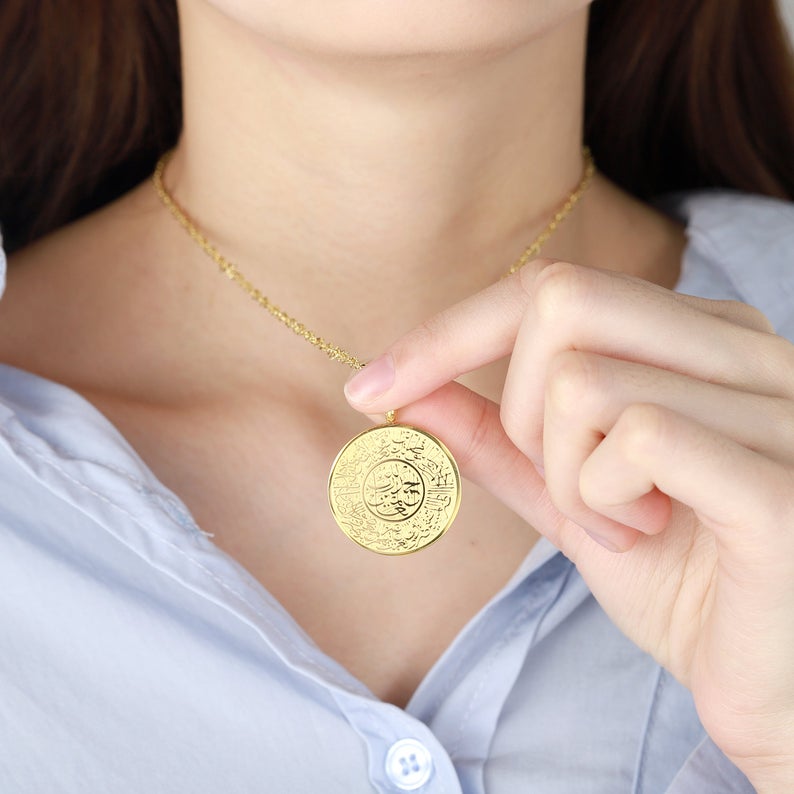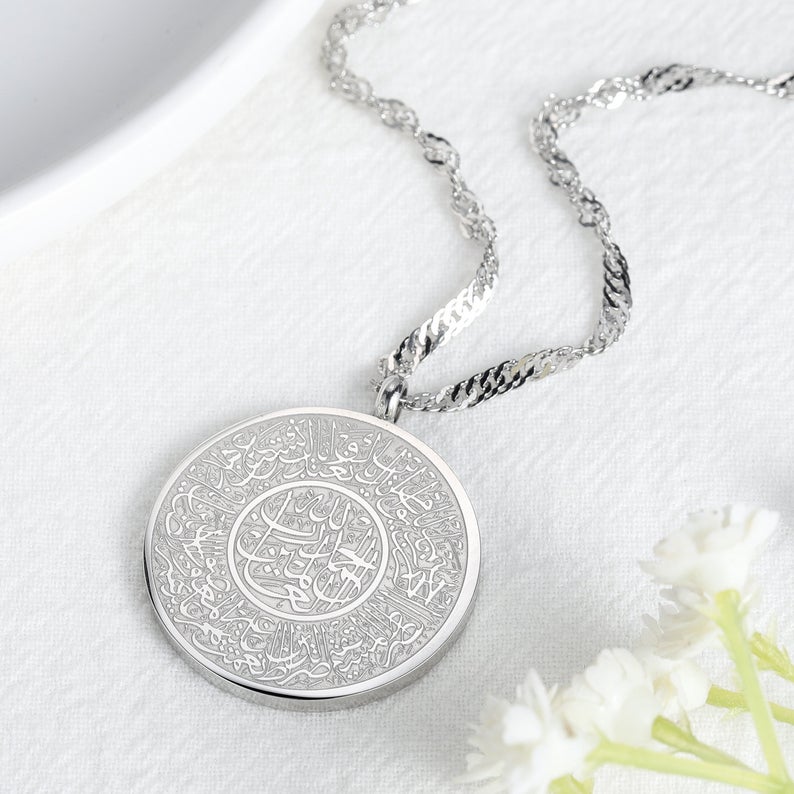 Al-Fatiha Necklace
The entire Surah Al-Fatiha is inscribed beautifully in Arabic calligraphy that was hand-designed by a Master Clligraphy Artist in Syria.

Surah Al-Fatiha is the first chapter of the Quran and a very powerful Surah that is recited by Muslims all over the world. It is also known as 'Ummul Quran' and 'Ummul Kitab' meaning the 'Mother of Quran' and 'Mother of the Book' respectively.

Reciting this Surah, one gets a way to get the favour of Allah. The Surah is really effective to light up the spirit of faith in the heart of a Muslim.

The Al-Fatiha Necklace features a twisted elegant chain and is avaliable in 18K Gold plated and Silver.


Length: 45 - 55cm Adjustable (18 - 21 inches).

Pendant Diameter: 2.5 cm (1 inch) Adjustable chain length

Hypoallergenic: Sensitive Skin-Friendly.
Made with stainless steel and dipped in real 18K gold.
Lifetime Warranty against all rust or tarnish.

Reminder: These pieces contain verses from the Holy Quran. Please be mindful and wear with utmost care and respect.
Free Shipping over $150
Free Express over $250
Standard: 2 - 8 Days
Express: 1 - 2 Days

30 Day Returns

No returns during sales events or festive seasons e.g Ramadan, Eid

No returns on any sale items / lifestyle items / custom & headwear items unless damaged.
All our pieces come with Lifetime Warranty against any rust, tarnish or colour fading.

We want our pieces to last a lifestime, so you can appreciate the beauty that each piece holds.

The moment our jewellery fails to make you smile, contact us and we'll send you a new one.
This product has no reviews yet.